To all news
SPC Biomicrogel took part in the Russian-French forum on Sustainable Development
SPC BioMicroGel took part in Russian-French Forum on Sustainable Development.
Alexander Khomik, director of business development at SPC BioMicroGel, took part in the first Russian-French forum on sustainable development. The event, which was held at the initiative of the Russian Trade Representation in France with the support of the Russian Ministry of Economic Development and the Russian Union of Industrialists and Entrepreneurs, brought together the well-known experts, officials and representatives of leading companies of the two countries. They discussed pressing issues related to the transition to the "green" economy and shared their best practices and their experience of using new technologies in their efforts towards the low-carbon economy.
The scope of business of SPC BioMicroGel, which has developed a unique technology for purifying water and hard surfaces from all types of oils, petroleum products and complex contaminants, is tightly connected to the global environmental agenda. No wonder that last year the Russian company became the winner of the prestigious international environmental award, and in 2019 it received the Seal of Excellence award from Horizon 2020,the world's largest research and innovation funding program, for its contribution solving global climate problems.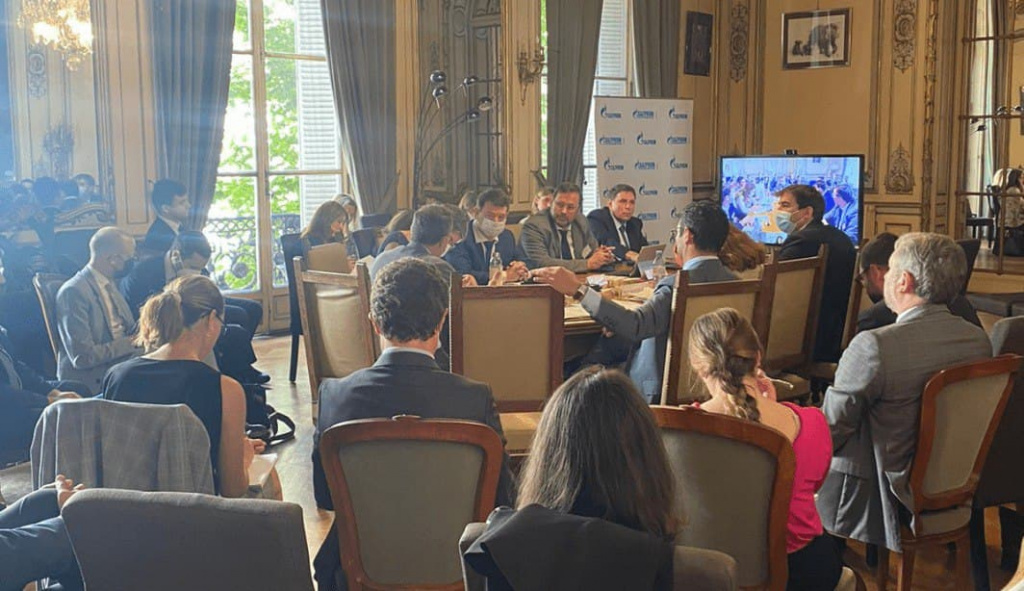 The Forum on Sustainable Development was held on September 6 in a hybrid format, bringing together participants from two studios, in Moscow and in Paris, via video conference. One of them was Alexander Khomik, he gave a detailed presentation of the range of technologies and reagents developed by SPC BioMicroGel and used for purification and disposal of liquid industrial wastes. "The main distinctive feature of our solutions is that they are environmentally safe and completely biodegradable, while being potent and cost-effective. Our manufacturing process complies with the basic principles of "green" chemistry; in particular, our reagents are derived from plant material, they are non-toxic and completely safe for humans and nature," said the director of business development at SPC BioMicroGel. For instance, when manufacturing our biopolymers, we use as raw material some natural organic substances, such cellulose, apple and beetroot pulp.
Solutions offered by the Russian company are not only environmentally friendly, but also quite efficient. They have a proven high economic effectiveness as well as demonstrated physical and chemical efficiency for cleaning water from oils, fats and petroleum products in comparison to conventional technologies. Their efficiency was confirmed, for example, by an independent technical audit carried out by Isle Utilities company from London, which specializes in the expertise of water treatment and water purification technologies. Based on the assessment of the British specialists, the products of SPC BioMicroGel have been assigned the maximum technology readiness level for commercial use, TRL9.
Among the key business areas for SPC BioMicroGel, the company's representative named the treatment of industrial effluents, detoxication and disposal of used cutting fluids (cooling lubricants), oil and oil products spills response, as well as solutions aimed to improve the vegetable oils extraction during their production. These tasks are accomplished with the help of three main products from the company's portfolio.
First of all, it is the polysaccharide-based coagulant Biomicrogel BMG-P2. Since this reagent is derived from complex processing of plant raw materials, it is completely safe for the environment and at the same time it easily separates even the most persistent water-oil emulsions. Secondly, it is the flocculant BMG-C2, which cleans water from oil contaminants also is based on a biopolymer – cellulose. The third product mentioned by Alexander Khomik is the eco-friendly and biodegradable filter material Spilltex created and patented by SPC BioMicroGel. It is obtained by chemically "sewing" Biomicrogel products® to the natural woven materials.
These solutions have proved to be very efficient in the treatment of cutting fluids during the pilot tests at large Russian metalworking sites, such as the plants of PJSC Severstal and the Pipe Metallurgical Company. "When separating and disposing the used cutting fluids, we achieved the required residual oil content in the water of less than 1 ppm, while with alternative solutions the results were much worse and exceeded the target by 3-5 times," said the director of business development at SPC BioMicroGel. "Our reagents allows our customers to reduce the volume of wasted coolant by an average of 98%, which translates into 50%-60% reduction in costs of coolants disposal."
The figures obtained during the tests of the company's reagents for the treatment of industrial and storm water from oil products at various industrial sites are just as clear. SPC BioMicroGel partnered with Russian industrial giants such as LUKOIL, Russian Railways and Rusagro in these projects. "In all cases, the required residual content of oil products in water was less than 1 ppm, while when using alternative solutions, these indicators were more than 10-100 times worse," said director of business development of SPC BioMicroGel.
A large and important business area in the company's profile is oil spill response. In June-August last year, the company's representatives took part in addressing the consequences of a major environmental disaster in the Arctic, where more than 20 thousand tons of diesel fuel spilled out in the vicinity of Norilsk. The two products were used in that project: Spilltex filter material and reagents for collecting oil film and for final water purification. According to A. Khomik, these products have shown high purification efficiency, which was confirmed by an independent accredited laboratory and protocols after testing water samples. "After this project our team received letters of gratitude from both the company responsible for the accident and from the Emergencies Ministry of Russia," noted Alexander Khomik.
He also provided detailed information about the prospects of using Biomicrogel's reagents in the production of vegetable oils. "The test results achieved in palm oil extraction are demonstrating quite convincing benefits of our products for the customers. Firstly, this is a two-fold reduction in oil losses due to the ability of our reagents to effectively trap oil droplets and separate them from solid particles. Secondly, this is an increase in oil extraction rates and oil production performance by 5%. Thirdly, a reduction of about a quarter of energy costs due to potential reduction of the process temperature at the extraction stage, as well as more than 15% reduction in water consumption". Taken together, all this leads to a decrease in CO2 emissions by 6 kg per ton of oil produced. For the entire global palm oil industry, this means reduction of carbon footprint by an impressive 400 thousand tons per year.
The advantages of this technology can be equally applied to manufacturing other types of vegetable oils, where water extraction is used. For instance, this applies to olive oil extraction. Surely this was taken with particular interest by the Parisian participants of the forum, since France is the fourth largest consumer of olive oil in Europe.
The Russian company and the French business already have even more obvious points of joint interest. SPC BioMicroGel is actively expanding its business in Europe (the company has representative offices in Great Britain and Poland), and in this sense France is one of the key markets for the company. Thus, BioMicroGel started working with Total. The RnD-center of the company in Yekaterinburg hosted a a French delegation headed by the Consul of France in Yekaterinburg.
For BioMicroGel France is a country of opportunities, since this European country has enacted and implemented environmental legislation, which generated demand for industrial solutions based on the products of the Russian company that are used for purifying water (industrial wastewater) from fats, oil and oil products, for recycling liquid oily wastes and for oil spill response. The ESG agenda, which is increasingly pushing businesses towards sustainable development, including the introduction of innovative technologies in the field of processing industrial waste and reducing CO2 emissions, creates great opportunities for the companies that are offering such technologies.
Need help? Send us a message and we'll get back to you.
We process all enquiries and are able to find a customized solution for every client.
Cookies

We use cookies to optimize and continuously improve our website for individual users like you. Please consult our "Cookies policy" to learn more about how they are used on our website.