To all news
The report "Biomicrogels® as a tool for palm oil extraction" recognized as the best presentation at ICEES 2022 international conference
The Report "Biomicrogels® as a Tool for Palm Oil Extraction" Recognized as the Best Presentation at ICEES 2022 International Conference
Maxim Mironov, Doctor of Chemistry, R&D Director of SPC BioMicroGel, spoke at the 6th International Conference on Energy and Environmental Science (ICEES 2022) in Southeast Asia with presentation "Biomicrogels® as a Tool to Increase the Efficiency of Palm Oil Extraction".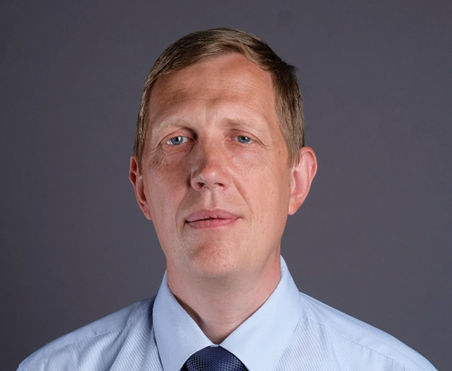 As part of this scientific conference, world-class experts, professors from renowned Asian universities, as well as members of the International Institute of Electrical and Electronics Engineers (IEEE) discussed cutting-edge developments for ecosystem recovery, alternative energy sources, the impact of pollutants on the environment and other important questions of humanity. The papers from the ICEES conference are indexed in the largest scientific literature databases Scopus and EI Compendex.
For BIOMICROGELS GROUP, this conference was an opportunity to raise the global problems of growing greenhouse gas emissions and freshwater scarcity and discuss them at an expert level, as well as to present its innovative Biomicrogels® technology to solve these problems. In addition, the ICEES 2022 conference was held in the company's target region – Southeast Asia, where the share of exports of industrial products increased by 30% over the past two years.
Palm oil – the undisputed leader among all types of vegetable oils – is widely used in the food industry, in the production of household chemicals, cosmetics and bio-diesel fuel. In 2021, Indonesia and Malaysia together accounted for 87% of global palm oil exports. The "contribution" of the palm oil industry in these countries to global warming is comparable to that of the global aviation industry and amounts to 500 million tons annually (this is about 1.5% of global carbon dioxide emissions). As part of the global sustainability agenda, the Indonesian and Malaysian governments have tightened requirements for the treatment of wastewater generated during the palm oil production. In Indonesia, the indicators of biological and chemical oxygen consumption, the most important criteria for the level of water pollution, have become 1.5-2 times stricter.
The palm oil extraction process inevitably involves irreversible product losses (e.g., for a factory with a capacity of 60 tons of fresh fruit bunches per hour product losses are estimated at 1%-2%). The processing waste in the form of an aqueous mixture of fruit fragments and oil is not suitable for watering palm plantations and is discharged into settling ponds, where it decomposes for decades.

Pilot testing by Biomicrogels Group at four palm oil mills in Southeast Asia using Biomicrogels® BMG-C4 oil extracting agent resulted in a reduction in oil loss of more than 30%, with additional oil extraction more than 5%. Besides that, accelerated extraction can be performed at a temperature of 80 °C, while the plants are operating at 95 °C - this represents a great opportunity to reduce energy costs in the production of palm oil.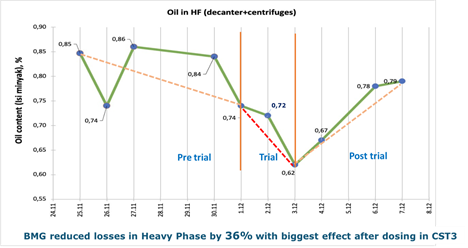 The economic effect of using BMG-C4 for a factory with a capacity of 60 tons of fresh fruit bunches per hour can exceed 500 thousand dollars per year. With the skyrocket growth in the stock price of crude palm (which as of November 2021 is $1300 per ton), these numbers can be even more impressive. From an environmental point of view, this technology can additionally reduce the energy costs of the plant (and, as a result, its carbon dioxide emissions into the atmosphere) by about 25%, while also decreasing water consumption by 15%. For the entire global palm oil industry, this would be equivalent to reducing the carbon footprint by more than 400,000 tons per year.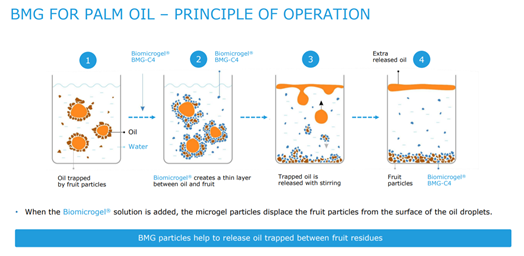 The solution for palm oil producers is based on Biomicrogels® BMG-C4 vegetable oil extraction agent (hereinafter referred to as BMG-C4) and a solution preparation and dosing unit. The introduction of this agent increases the efficiency of oil extraction process, allows for 2x-3x reduction of the oil content in POME, reduces the CPO loss to 0.3-0.5%, and increases the additional oil extraction to 5%. This reagent is derived by complex processing of vegetable raw materials, it has a food grade marking and is completely safe for the environment and does not affect the quality and characteristics of the oil.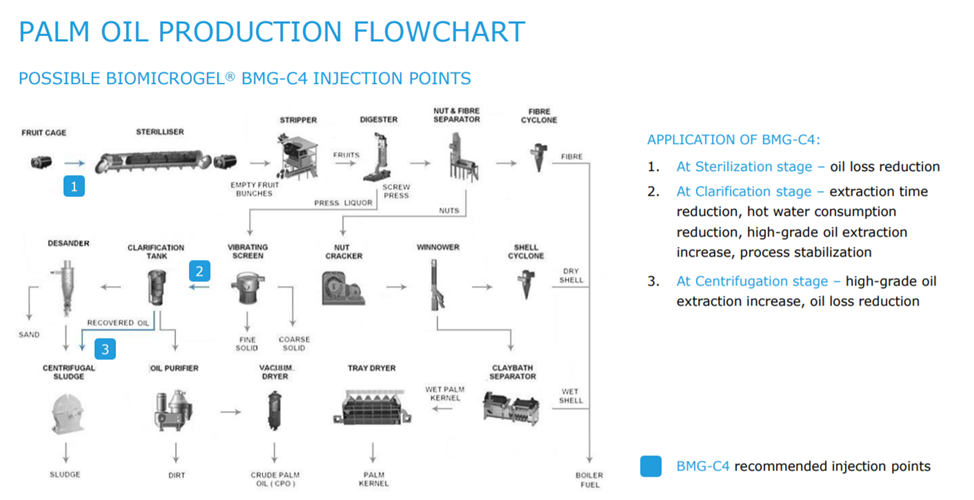 Biomicrogels® are biodegradable polymers that are derived by deep processing of agricultural raw materials: apple and beet pulp and can replace standard synthetic petroleum-based polymers in a wide variety of human activities. Biomicrogels® technology is based on a new principle of operation – they gather oils in microcapsules, separating them from the surface or water, and after separation, both oils and purified water can be returned to the technological cycle and reused. In 2021, G20 members, global experts and investors recognized high-tech solutions based on Biomicrogel® as the best technology in the Cleantech category.
The company has been operating in Southeast Asia starting early 2019. At the beginning of 2022, the company has three distributors in Indonesia, working with 30 companies that control 90 palm oil factories. In Malaysia, there are 3 companies that wish to become BIOMICROGELS GROUP distributors. They work with 15 palm oil producers, each representing 3 to 15 palm oil plants.
Need help? Send us a message and we'll get back to you.
We process all enquiries and are able to find a customized solution for every client.
Cookies

We use cookies to optimize and continuously improve our website for individual users like you. Please consult our "Cookies policy" to learn more about how they are used on our website.