To all news
Biomicrogels® technology developed by BIOMICROGELS GROUP is featured in White Book G20 Innovation League
Biomicrogels® technology developed by BIOMICROGELS GROUP Is featured in White Book G20 Innovation League – among the top-10 technology solutions created in G20 countries in 2021
High-tech solutions based on the Biomicrogels® technology from BIOMICROGELS GROUP, which were recognized as the world's most innovative solutions according to G20 Innovation League forum, were included in the White Book – a list of recommendations for implementation in response to the global challenge of reducing CO2 emissions and fresh water shortage.

The White Book G20 Innovation League is a first-ever book published by the initiative of the Italian presidency of G20 in collaboration with the Minister of Foreign Affairs of Italy, the Italian Foreign Trade Institute, the Italian Innovation Fund (CDP Venture Capital) and the financial company SIMEST with the aim of stimulating cooperation between countries and international innovation ecosystems to solve the global challenges of mankind.

The G20 Innovation League Forum is the most important event for the development and search for partners, driving innovations in the G20 countries. The event aims to build relationships between public and private innovative market players, start-ups and corporations on a global scale.

The participants of G20 Innovation League paid special attention to the problem of reducing СО2 emissions in the context of the European Commission's proposal to reduce EU carbon dioxide emissions by 55 percent by 2030 compared to 1990 levels and to net zero by 2050. Industrial sector is the largest source of greenhouse gas emissions, representing 26% of the global carbon footprint. Reduction of emissions is becoming a prerequisite for the export of industrial products.

Currently, developed countries are pursuing special policies to combat harmful emissions into the atmosphere, introducing "carbon tariffs" for local and foreign manufacturers. In this regard, the solutions from BIOMICROGELS GROUP allow industrial companies to remain competitive in the global market. BIOMICROGELS GROUP presented its own technology – Biomicrogels®, which allows to reduce СО2 emissions in various industrial processes: during the purification of industrial wastewater from oils, fats and petroleum products, during processing and disposal of used cutting fluids (cooling lubricants), in oil spill response and when increasing the efficiency of vegetable oil production.

Biomicrogels are natural biopolymers and their advanced modifications that replace the standard synthetic petroleum-based polymers used today in a wide variety of human activities. The production of Biomicrogels® is based on deep processing of agricultural by-products: sugar beet pulp, apple pomace, etc., therefore, it makes it possible to obtain 100% biodegradable polymers that are completely safe for nature and humans at an affordable price. Biomicrogels® separate any types of oils, fats and greases as well as petroleum products from the surface or in water and gather them in microcapsules. In this form, oils can be easily separated from water or from solid surface, and after separation, both oils and purified water can be returned to the technological cycle and reused.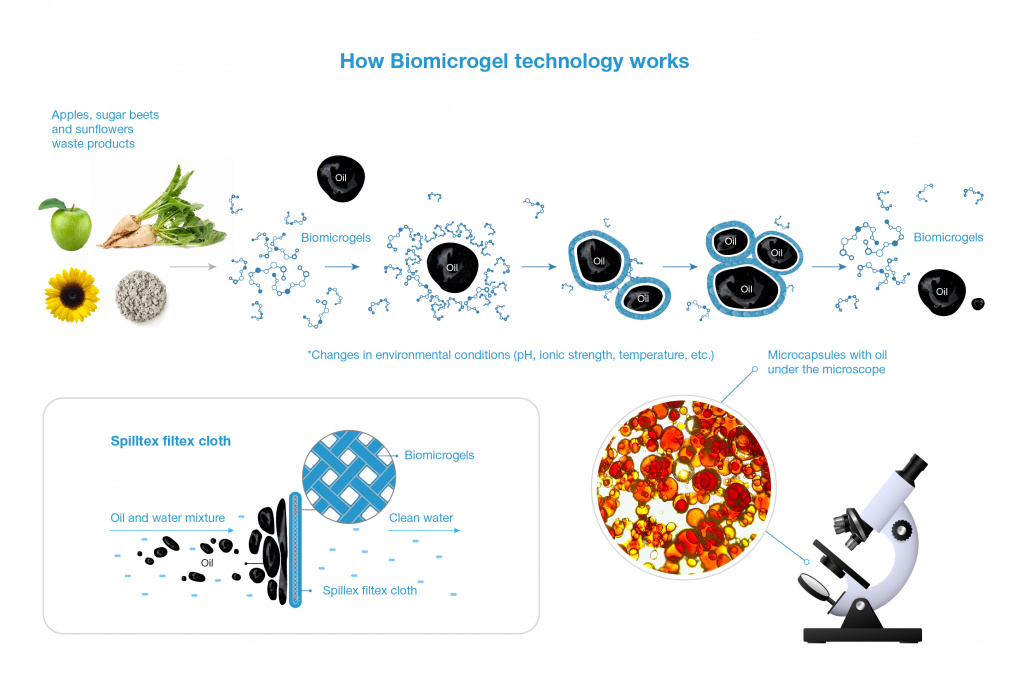 Isle Utilities Limited (Isle, UK), an international consulting company specializing in technology assessment and best innovative practices for more than 30 years, has confirmed the most important properties of Biomicrogels® products and solutions, assigning them the following characteristics: high efficiency, complete biodegradability, compliance with the principles of "green chemistry", economic efficiency, as well as uniqueness of products and technologies. The effectiveness of Biomicrogel® technology has been proven and protected by more than 100 patents in 62 countries, including Europe, Russia, the USA, Canada and the Gulf countries.

The industrial products and solutions based on Biomicrogel® technology help purify water up to 10 times more efficiently and more economically than similar solutions, while optimizing the involved processes in terms of energy costs and greenhouse gas emissions. The estimated market size for the company's products and technologies are estimated at more than 250 billion dollars in total. Biomicrogels® technology reduces CO2 emissions as the manufacturing process of Biomicrogels® is CO2-neutral and the technology itself does not require energy-intensive processes or heating. Today, the Biomicrogels Group includes 4 chemical laboratories, 2 production workshops and has more than 120 employees in 5 countries around the world. Since agricultural wastes containing large amounts of polysaccharides are widely available throughout the world, it is possible to find suitable raw materials for the production of Biomicrogels® almost anywhere in the world and localize the production of Biomicrogels® where they are needed in order to minimize the carbon footprint from the transportation of raw materials and finished products.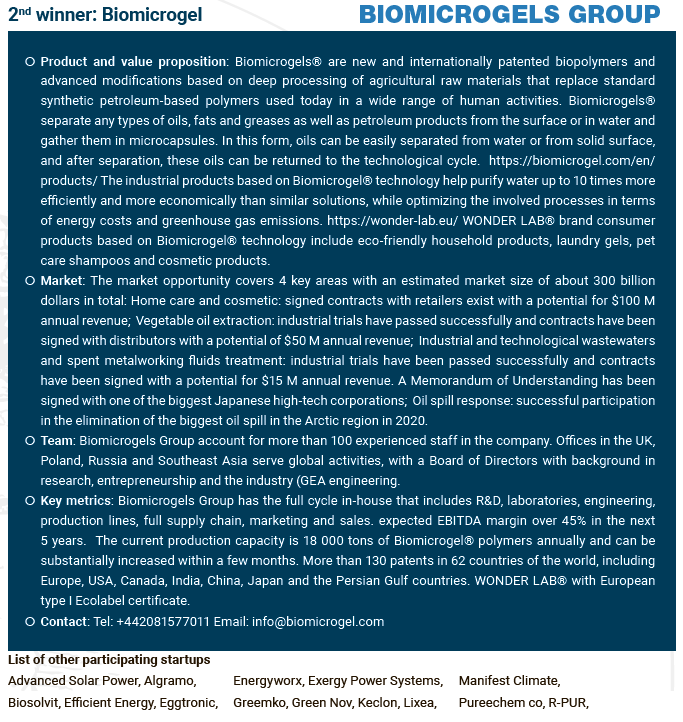 Need help? Send us a message and we'll get back to you.
We process all enquiries and are able to find a customized solution for every client.
Cookies

We use cookies to optimize and continuously improve our website for individual users like you. Please consult our "Cookies policy" to learn more about how they are used on our website.