Oil-contaminated soils is a challenge arising out of production, transportation, storage, refinery and utilization of any types of oil and petroleum products. It results in major environmental impacts due to large area of polluted lands, whose ecosystem is disturbed, natural processes are discontinued, and this area can no longer be used for any economic purposes.
Issues of oil-contaminated soils treatment:
• Insufficient rate of soil cleaning (self-cleaning) for soil fertility recovery
• Hard to account for character of implications of polluted soil reclamation/recovery
• Prevalence of pollution on top of toxic effects on polluted area
| | | |
| --- | --- | --- |
| Indicator | Before treatment | After treatment |
| Petroleum products | 0.1-20% | <100 mg/dm3 |
Example of oily scale treatment process
The oily scale is mixed with the Product for cleaning the hard surfaces referred to as Biomicrogel® BMG-C6 and is supplied to cyclone separator where degreased scale particles are separated from wash solution containing petroleum products. After that degreased scale is supplied to re-use. The petroleum products are supplied to further refinery after settlement, and the wash solution is supplied to recycling.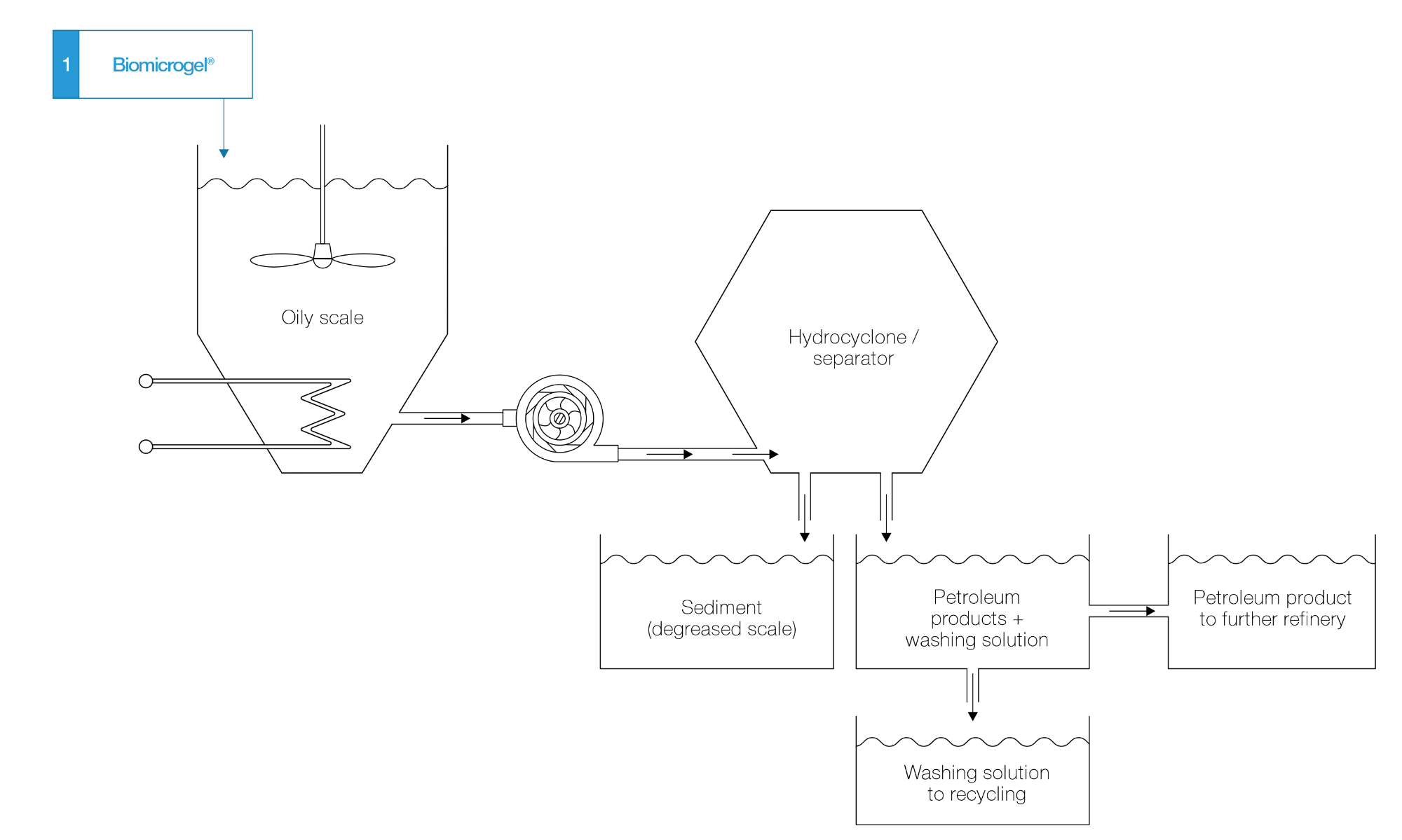 Upon contact with the solids contaminated with oils Biomicrogel® BMG-С3 Product forms extremely thin film between the solids and oil thereby separating the pollutant from the surface of the solids.
This makes cleaning of any solid particles from oils, greases and petroleum products in the washing solution of Biomicrogel® BMG-С6 Product effective. The cleaning process can be intensified by supplementary mixing or heating.
Place an order
The soil cleanup agent Biomicrogel® BMG-С3 is used in form of treatment solution.
Dissolve the soil cleanup agent Biomicrogel® BMG-С3 in water using mixer or impeller mixer or other appropriate mixing device suitable for making homogeneous solution. Recommended duration of mixing is 30 – 60 min, until the Product is fully dissolved.

The soil cleanup agent Biomicrogel® BMG-С3 is supplied as powder.
It is packed in 25 kg polypropylene bags, and the bags are then placed on pallets. One pallet carries 20 bags – 500 kg of the Product.
To avoid hydrolysis or increase of microbial counts, fungi, hence resulting in deterioration, use the treatment solution of the soil cleanup agent Biomicrogel® BMG-С3 within 7 days after preparation.
The soil cleanup agent Biomicrogel® BMG-С3 is delivered in sterile condition; however, solutions can promote growth of airborne or aquatic bacteria and fungi. Always add biocide in storage areas where this process can occur. It is recommended to use biocides based on isothiazoline in proportion of 700 ppm of agent per water volume. Equipment for preparation and containers for storage of Biomicrogel® BMG-С4 Product treatment solution as well as pipelines shall be pre-flushed and disinfected. Store the product in cool and dry place. Keep the entire protective packaging safe until the product is used. Guaranteed storage life – 24 months as of date of manufacture.
The soil cleanup agent Biomicrogel® BMG-С3 shall be disposed of in accordance with effective legislation.
Need help? Send us a message and we'll get back to you.
We process all enquiries and are able to find a customized solution for every client.