To all news
The journal "Clean Technologies and Environmental Policy" published an article by SPC BioMicroGel on the use of biopolymer-based membranes
"Clean Technologies and Environmental Policy", the Highly-Cited International Scientific Journal, Published Article from SPC BioMicroGel on the Use of Biopolymer-based Membranes
03/25/2022
The influential international journal "Clean Technologies and Environmental Policy", published by Springer, features a scientific review from SPC BioMicroGel titled "Biopolymer-based membranes: green technologies for the separation of oil-water mixtures and the reduction of oil pollution".
The journal provides the world's leading experts with an opportunity for interdisciplinary discussion of research results, new technologies and environmental policies, contributing to the development and implementation of effective products around the world. The journal has a high impact factor of 3.636 and a Hirsch index of 55.
The published article provides an overview of biopolymer-based membranes derived from natural materials. Methods of production, microstructure and properties of textile, aerogel and inorganic-based membranes are discussed. It has been shown that textile membranes have a number of advantages over aerogel membranes, such as ease of production and low cost. The advantages and disadvantages of inorganic-based membranes are also presented.
The article discusses the properties of cotton textile Spilltex®-branded membranes modified with polysaccharide microgels (Biomicrogels®). It is shown that the flow of purified water through such a membrane is more than 4 times higher than the flow through similar textile membranes. Spilltex® membranes exhibit very high separation efficiency (over 99.9%) for various oil/water mixtures (petroleum/water, oil/water, vegetable oil/water, toluene/water). The results of the practical application of the Spilltex® membrane as a protective barrier and filtering material are demonstrated. Spilltex® membranes have shown high efficiency in the treatment of water in rivers and reservoirs. For example, after using such a membrane, the purified water contains no more than 45 mg/l of diesel fuel (with the initial contamination level of 500–5000 mg/l).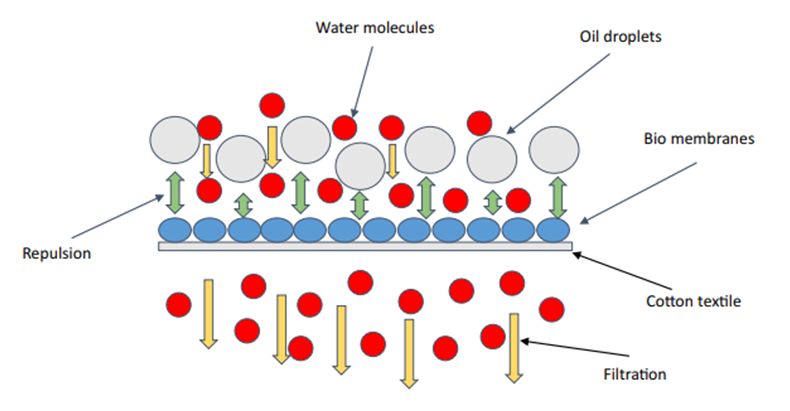 The article also pays attention to environmental problems, namely methane and CO
2
emissions, which are one of the key factors that increase the environmental burden on the atmosphere of Earth. Analysis of technologies for utilization of petroleum products from water-oil mixtures has shown that the use of membranes is the best way to separate such mixtures. When using membranes, greenhouse gases and harmful aerosols are not formed. Petroleum products separated from water can be reused for commercial purposes to produce lubricants. The use of membrane technologies for capturing hydrocarbons in oil production can help reduce overall greenhouse gas emissions by 2%.
Need help? Send us a message and we'll get back to you.
We process all enquiries and are able to find a customized solution for every client.
Cookies

We use cookies to optimize and continuously improve our website for individual users like you. Please consult our "Cookies policy" to learn more about how they are used on our website.