Palm oil is the most widely consumed vegetable oil in the world. It can be found in everything from food to cosmetics.
The palm oil extraction process inevitably involves irreversible product losses, with processing waste (Palm Oil Mill Effluent, POME) being discharged in man-made settlement ponds. It may take decades for the oil to biodegrade in those ponds, which has negative impact on environment.
The oil losses during extraction at a factory with a capacity of 60 tons of fresh fruit bunches per hour range from 1% to 2.5%. Moreover, the discharged production waste (POME) - about 40 m3 per day - cannot be used for irrigation of plantations.
| | | |
| --- | --- | --- |
| Indicator | Before implementation of the solution | After implementation of the solution |
| Oil losses at centrifuge treatment stage | 0.9 – 1.2% | 0.3 – 0.5% |
| Increase in oil extraction rate | Not applicable | up to 5% |
| Reduction in oil content in POME | Not applicable | by 2-3 times |
Example of flowchart
One of the methods of Biomicrogels BMG-C4 application is using the agent after a centrifugal pulp that pulps unrefined palm oil into a clarifier.
Insertion of the agent at this stage makes possible to simplify the process of releasing oil particles from solid particles, which speeds up the process of separating the oil in the clarifier .. Introduction The agent increases the efficiency of separating the extracted oil, and also reduces the oil content in POME by 2-3 times.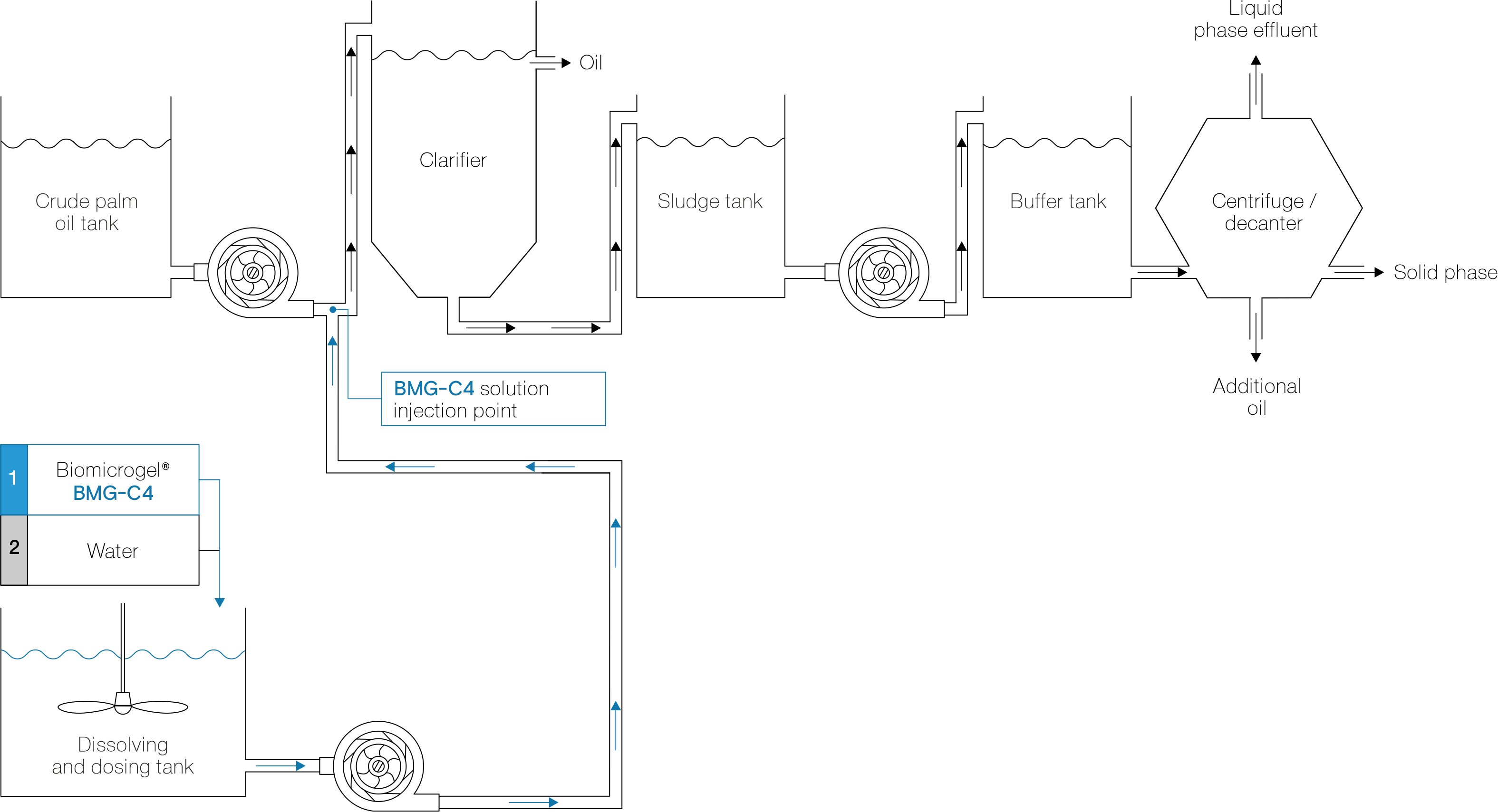 BMG-C4 forming submicron films around oil droplets and on the surfaces of fruit solid particles and by this helping to release oil to float up to the surface.
Unlike other Biomicrogels® modifications used as sorbent, flocculant or flocculating agents where strength of films (microcapsules) is critical and must be maintained for a long period of time, in this case it is important to ensure just short-term presence of such films on the surface of the solid particles, ensuring oil separation from the solids and floating of oil to the surface of the water. After the process is completed Biomicrogel® BMG-C4 remains in water phase and in solids.
Place an order
Biomicrogel® BMG-С4 is used in a form of a 3% solution.
In order to prepare the Biomicrogel BMG-C4 working solution, it is necessary to use special preparation and dosing equipment of the BMG PDS series following the instruction manual for BMG-C4
Biomicrogel® BMG-С4 is supplied as powder.
It is packed in 25 kg polypropylene bags; the bags are then placed on pallets. One pallet carries 20 bags – 500 kg of the Product.
To avoid hydrolysis or growth of bacteria and fungi, resulting in deterioration of the solution, use the Biomicrogel® BMG-С4 working solution within 7 days after preparation.
When the working solution is prepared, it creates environment for the growth of airborne or aquatic bacteria and fungi. Always add biocide in storage areas where this process can occur.
It is recommended to use isothiazoline-based biocides in proportion of 700 ppm of agent per volume of water. Equipment for preparation and containers for storage of Biomicrogel® BMG-С4 treatment solution as well as pipelines shall be pre-flushed and disinfected. Store the product in cool and dry place. Keep the entire protective packaging safe until the product is used.
Guaranteed storage life is 24 months from manufacture date.
Biomicrogel® BMG-С4 Product shall be disposed of in accordance with effective legislation.
Need help? Send us a message and we'll get back to you.
We process all enquiries and are able to find a customized solution for every client.
Need help? Send us a message and we'll get back to you.
We process all enquiries and are able to find a customized solution for every client.